Welcome to our web site!

On this home page we'll introduce our organization and highlight important areas on our site.
I.S.N.A. OFFICERS
PRESIDENT; KEVIN WHEATLEY;krwcollections@aol.com
RECORDING SECRETARY; LINDA POWELL;asasgrandma@gmail.com
SGT. AT ARMS; GARY POWELL;icecoin@frontier.com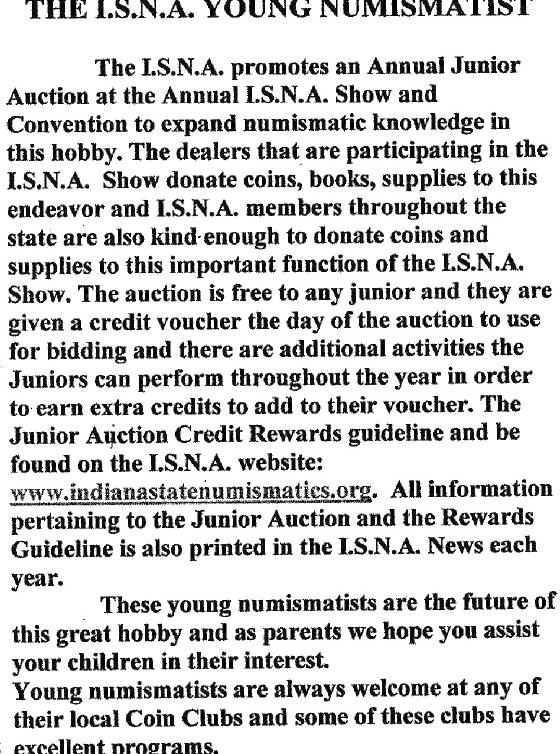 THE 2016 58TH ANNUAL I.S.N.A. COIN SHOW WILL BE HELD AT THE MARRIOTT EAST, 7202 EAST 21ST STREET, INDIANAPOLIS,OCTOBER 14 AND OCTOBER 15, 2016. FREE ADMISSION AND FREE PARKING. HOURS-OCTOBER 14-10 A.M. -6 P.M.; OCTOBER 15, 10 A.M.-5 P.M. THE 29TH ANNUAL I.S.N.A. JUNIOR AUCTION WILL BE AT 1 P.M. ON OCTOBER 15, 2016 ACROSS FROM LIBERTY HALL AT THE MARRIOTT. REGISTRATION BEGINS AT 12 NOON.
EARLY BIRD BADGES FOR THE 2016 I.S.N.A. SHOW WILL BE AVAILABLE AT THE REGISTRATION TABLE BEGINING AT 1 P.M. ON OCTOBER 13, 2016 FOR $50.00.